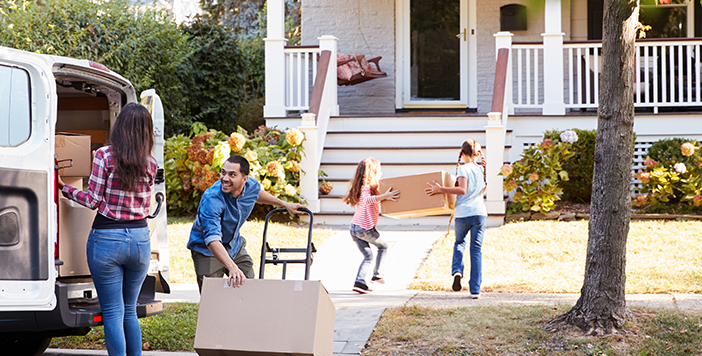 Move In Cleaning For A Fresh New Place
Whether it's your first apartment in the city, a suburban bungalow or a farmhouse in the country, there's nothing like moving into a new home. But before you start bringing in boxes (and trying to find the plates), you should take some time to tidy up. After all, an empty home gives you a rare opportunity to deep clean areas that could be difficult to reach once furniture and home goods are in place. If you're not sure how to clean a home or apartment before moving in, don't worry — we can help guide you through the process.
Create a move-in cleaning checklist with our guide below
Cleaning a house before moving in is a little different than your normal cleaning routine, or even spring cleaning. Since your new place will be mostly empty, you can take more time to get into areas like cabinets and closets, as well as performing a move in deep cleaning of carpets and other surfaces. This is also a great time to do some pre-move in cleaning of laundry and kitchen appliances to ensure they look and smell their best.
Learn more about why you need to clean your appliances.
Move in deep cleaning for every room in your home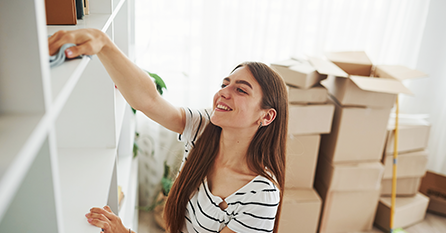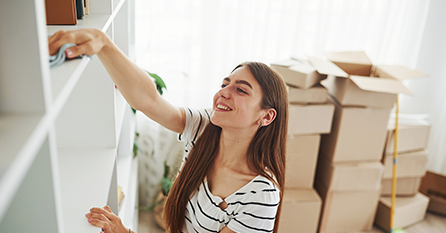 Things can be a little overwhelming when you're moving to a new home. Before you start bringing in furniture, boxes and other items, take some time to do a walkthrough of each room in your home to determine what needs to be cleaned. For example, some rooms may be carpeted, while others may feature hardwood, tile or vinyl floors. This walkthrough will allow you to determine what type of cleaning is needed for each space.
Once your walk-through is complete, you can begin your new house cleaning routine by wiping down surfaces such as your window sills, blinds and other areas such as ceiling fan blades. In addition to items at eye level, you'll also want to ensure that baseboards and vent grates are wiped down to eliminate dust from these areas. 
You can then turn your attention to your floors. Begin by vacuuming your carpet or hard floors to remove residual dust and debris. Next, use an appropriate cleaning method to deep clean your floors. Use a mop, floor cleaning solution and warm water to take care of solid floors. Carpets can be cleaned with a carpet cleaning appliance or steam cleaned by professionals. Wait until your carpet is completely dry before moving in your furniture.  
New house? Deep cleaning the bathroom is essential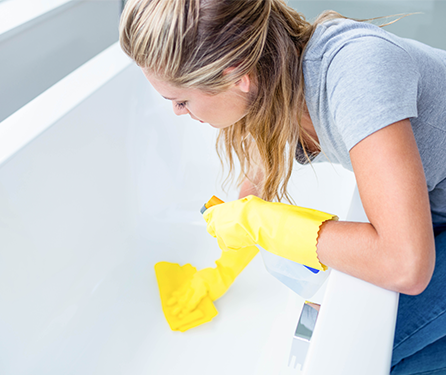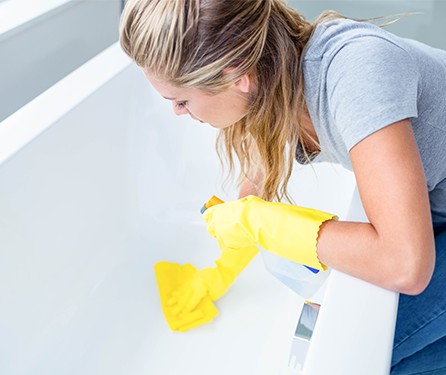 After taking care of floors and basic surfaces, it's time to turn your attention to the bathroom. It's important to get rid of any residual grime here — not only will it make this room look and smell better, but it can also help cut down on mildew, soap scum and other common bathroom issues.
Start by wiping down the shower/tub area with a mild cleanser that's safe for tile, vinyl or other bathtub surfaces. Rinse thoroughly once cleaning is complete, then wipe dry with a soft cloth. When cleaning your bathtub, pay special attention to the fixtures, especially if you live in an area that's prone to hard water buildup. Look for cleaners that can help get rid of this build-up without damaging the metal.
Once the bathtub/shower area is complete, it's time to turn your attention to other facets of the bathroom. Take some time to clean counters and sinks, as well as the mirror and medicine cabinet. Also, don't forget the light fixtures! Light fixtures above bathroom mirrors can get covered with dust and grime over time, so be sure to remove them (if possible), wipe them down and replace them once you're done. Last but not least, scrub out the toilet bowl and wipe down the seat, lid and other surfaces with a mild cleaner and a soft, damp cloth. 
Don't leave your laundry room off your pre-move in cleaning task list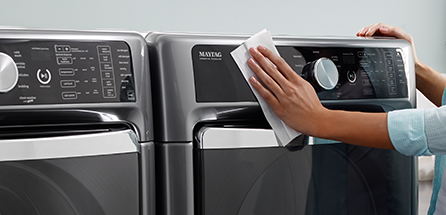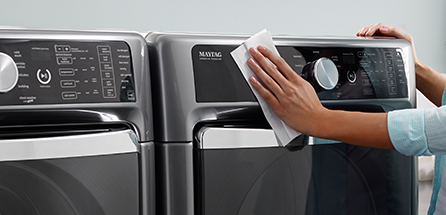 Some homes have laundry rooms, while others have appliance hook-ups in the basement or a closet. Regardless of your arrangement, it's important to clean this area before installing your appliances. In addition to cleaning the floors, wipe down any shelves, counters or other surfaces, as well as the exterior of your washer and dryer.
After you've tidied these areas, it's time to clean the interiors of these appliances. Start by cleaning out your dryer duct, either on your own or with the help of a professional. Once this task is completed, hook up your dryer and clean out the lint screen. 
To clean your washing machine, start by wiping down the exterior with a soft, damp cloth. In addition to cleaning the exterior, it's vital to clean the inside of your washing machine, too. Washing machine cleaning tablets from affresh® help you clean what you can't see: the pump and valve, behind the basket and drum, wash tub, agitator or filter, and drain hose. Formulated to break up dirt and residue, affresh® washing machine tablets can help you deep clean both top load and front load washers to keep your appliance clean and smelling fresh.
Learn How to Clean Your Washing Machine
Pre-move in kitchen cleaning tasks
The kitchen is arguably one of the most challenging areas to clean. In addition to numerous surfaces like counters and cabinets, kitchens also feature numerous appliances, each with their own specific cleaning regimens. Fortunately, some appliances can clean themselves to a certain degree. For example, most ovens feature a self-cleaning cycle that can eliminate the need to scrub stains by hand. It's as simple as removing the oven racks and pressing the "self-clean" button on your appliance. While your oven cooks away stains and burnt-on food, you can soak and wipe down your oven racks to remove grease and grime.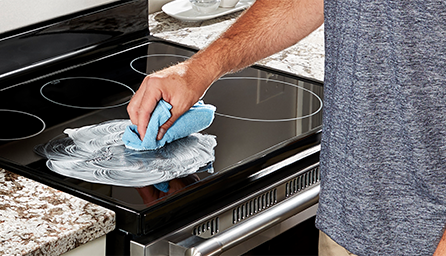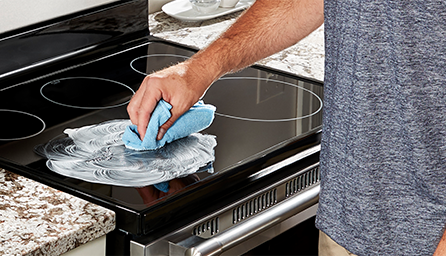 After you clean your oven, turn your attention to your cooktop so you can have a fresh start. When cleaning a glass stovetop, you'll need to use the right equipment to remove cooked-on food without scratching the surface. Affresh® cooktop cleaning kits come with cleaner, scrubbing pads and a scraper so you have everything you need to achieve a perfect clean. If you already have scrubbing pads and a scraper, you can also purchase affresh® cooktop cleaner separately to keep up with regular cleaning.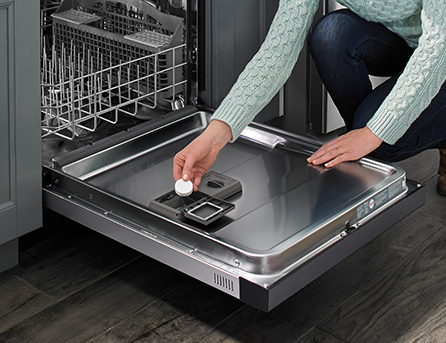 Once you've finished cleaning your oven and cooktop, turn your attention to your dishwasher. Cleaning a dishwasher is fairly straightforward, but it's important to have what you need to get the job done right. Dishwasher cleaner tablets, like those from affresh® appliance care, are designed to clear limescale and other minerals from your dishwasher's spray jets, hoses and other surfaces, as well as cleaning the areas you can't see like the tub, racks, pump and valve, and drain and recirculation hoses. Performing a move-in deep cleaning gives this hardworking appliance a fresh start.
While your dishwasher completes its cleaning cycle, you can take some time to clean your microwave and refrigerator. Wipe down the interior of your microwave with vinegar and a soft cloth, then clean your microwave's turntable with warm, soapy water. Cleaning your refrigerator is a similar process — before installation, take time to clean the condenser coils, wipe down the interior walls with vinegar and a soft cloth, and clean the shelves and drawers with warm, soapy water before drying and reinstalling them. This may also be a good time to replace your refrigerator's water filter, if applicable. Once this is done, wipe down the door and handle of your refrigerator with a soft cloth and mildly soapy water. If your refrigerator has a stainless steel finish, use a specially formulated stainless steel cleaning spray cleaner. Then finish off with a brightener to restore your stainless steel to a bright shine.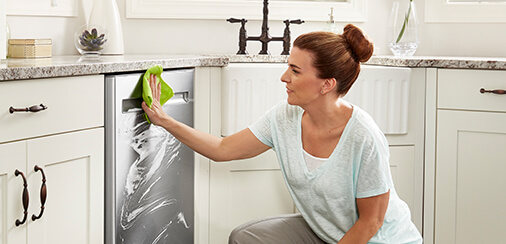 Once your major appliances have been given a deep clean, it's just a matter of taking care of the finishing touches. Wipe down your sink and counters, and use garbage disposal cleaner tablets to help clean and remove odors from areas you can't see, such as the chopper mechanism, internal cavity and hose. You should also wipe down the doors and handles of your appliances. If your appliances have a stainless steel finish, be sure to use cleaners specifically designed for the task. Affresh® appliance care offers a stainless steel brightener that clears away rust, and removes heat discoloration and yellowing from stainless steel surfaces.

Make move in deep cleaning easier with affresh® appliance care

There's nothing better than moving into a fresh, clean new home. To make cleaning easier, affresh® offers a wide range of specialized cleaning solutions that keep your laundry and kitchen appliances looking great. Explore our collection of cleaning options for kitchen and laundry appliances. Whether you're moving in, doing some spring cleaning or tidying up after the holidays, we have what you need to get the job done. Explore our complete line of products today.