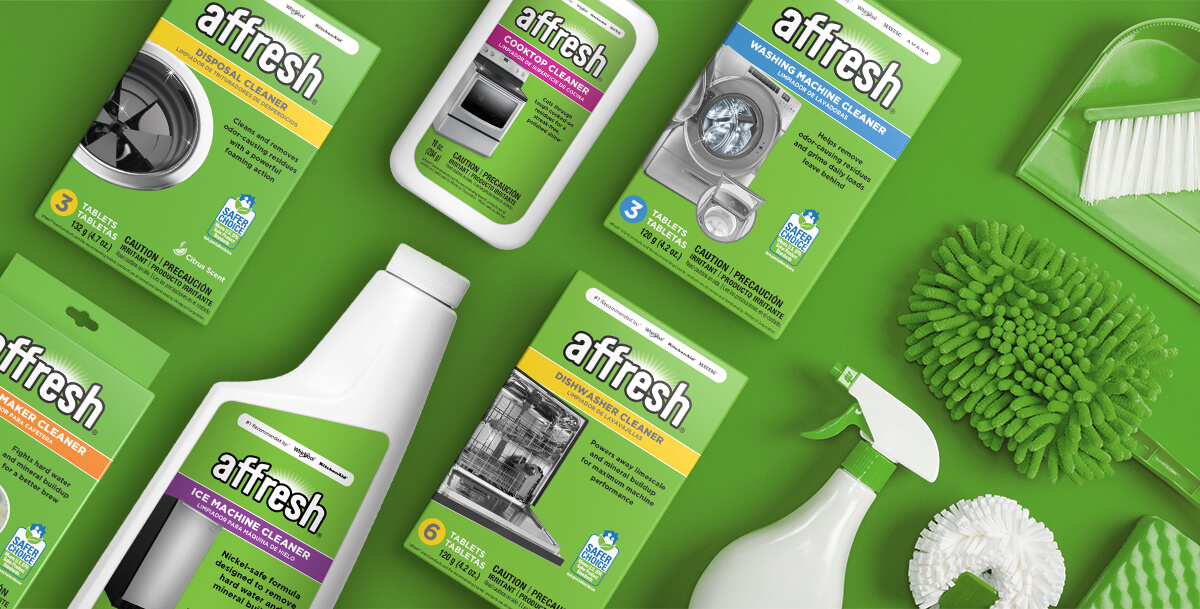 Tackle Your Spring Cleaning Checklist
Is there anything better than relaxing in a clean home? After being cooped up inside during the winter months, engaging in some thorough spring cleaning gives people a chance to freshen up their favorite spaces. It's also a great opportunity to declutter, clear away dust and allergens and even update your home's look.
Spring cleaning checklist from affresh®
If this is your first time spring cleaning — or if you're looking for some new spring cleaning tips and tricks — affresh®️ is here to help. Before you start spring cleaning, reviewing a list can help you prioritize where to start and which tasks you'll need to complete. Our spring cleaning checklist features everything you need to clean your home and appliances.
Spring cleaning ideas for every room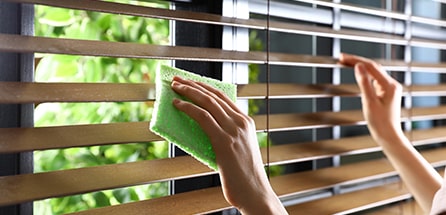 Dust

Dust shelves
Dust blinds, curtain rods and window sills
Dust electronics
Dust lamp shades
Dust ceiling fans, if applicable
Dust and polish furniture

Vacuum and clean floors

Vacuum hardwood, tile and carpeted floors
Wipe down baseboards
Mop hardwood floors
Shampoo or steam clean carpets
Wash or dry clean rugs
Spring cleaning ideas for your kitchen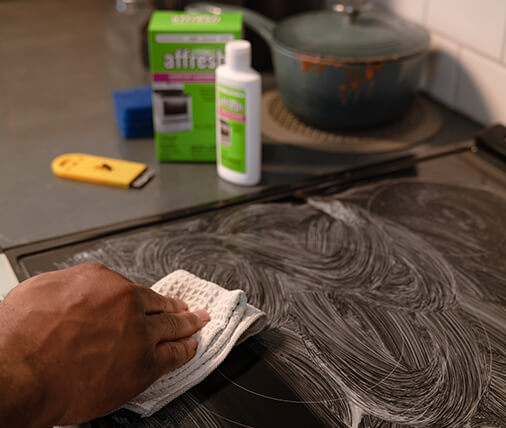 Clean your appliances

Clean your oven

Put your oven on a self-cleaning cycle or clean the interior with baking soda, vinegar and water

Wipe down your stovetop
Clean your microwave

Wipe down the interior and exterior of your microwave, and clean the microwave turntable

Mix water and vinegar in a bowl and microwave until it steams
Remove bowl once cool
Wipe microwave down with damp cloth

Clean your refrigerator

Remove old or expired food and throw it away
Remove and wash refrigerator drawers and shelves
Wipe down your fridge's interior walls with soapy water or vinegar
Defrost and clean the interior of your freezer
Replace your refrigerator's water filter
Wipe down your refrigerator doors and handles. Use affresh®️

stainless steel brightener

to restore shine.

Clean your dishwasher

Remove and clean your dishwasher filter
Wipe down the door and handle
Run a cleaning cycle with a dishwasher cleaner tablet or vinegar and baking soda

Clean your ice maker
Wipe down kitchen cabinets and shelves
Wipe down and clean countertop appliances
Wipe down counters
Clean your sink and garbage disposal

Wipe down with a sponge and recommended cleaner
Use garbage disposal cleaner tablets to help remove odor-causing residues
Spring cleaning ideas for your living room
Polish wood furniture
Clean upholstery

Wash slipcovers or have upholstery cleaned by professionals
Clean pillows and throw blankets
Wash or dry clean curtains

Wipe down high touch surfaces, such as remote controls
Spring cleaning ideas for your dining room
Clean upholstery

Wash or dry clean curtains
Vacuum or clean chair cushions
Spring cleaning ideas for your bathroom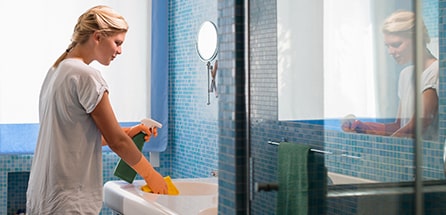 Declutter cabinets

Throw away expired makeup
Throw away expired personal care products
Take expired medications to a secure drop-off site

Clean personal care items

Clean hair brushes
Clean makeup brushes
Clean or replace toothbrushes

Clean bathtub and shower

Wipe down surfaces
Clean tile and grout, if applicable
Clean and descale showerhead

Clean toilet

Scrub toilet bowl
Wipe down toilet seat and surfaces

Clean sink and counters

Wipe down sink and fixtures
Wipe down counters

Clean mirror
Wash or replace shower curtain liner
Wash bath mats
Spring cleaning ideas for your bedroom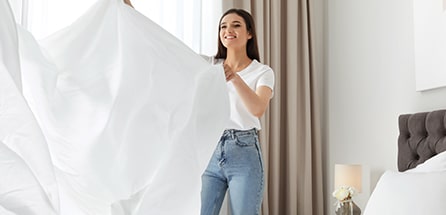 Declutter

Organize clothes and shoes

Go through clothing and shoes in closet, drawers and other storage spaces
Donate unused items
Reorganize remaining items

Wash bedding

Clean sheets
Clean pillows
Clean comforters and duvets
Flip or turn mattress
Spring cleaning ideas for your laundry room
Clean your appliances

Clean your washing machine

Run a cleaning cycle with a washing machine cleaning tablet or bleach
Wipe down the rubber gasket and inner door of your front load washer, if applicable
Wipe down the outside of your washing machine

Clean your dryer

Clean dryer vent
Clean lint trap
Wipe down the outside of your dryer with a damp cloth

Wipe down surfaces
Additional spring cleaning ideas for other areas of your home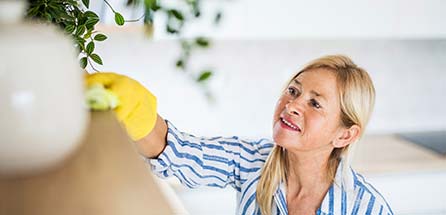 Wash windows
Replace air filters
Wipe down surfaces

Wipe down shelves
Wipe down door handles
Wipe down light switches

Replace batteries and light bulbs as needed

Replace smoke alarm batteries
Replace remote batteries as needed
Replace light bulbs as needed
Learn some of our favorite spring cleaning tips and tricks below: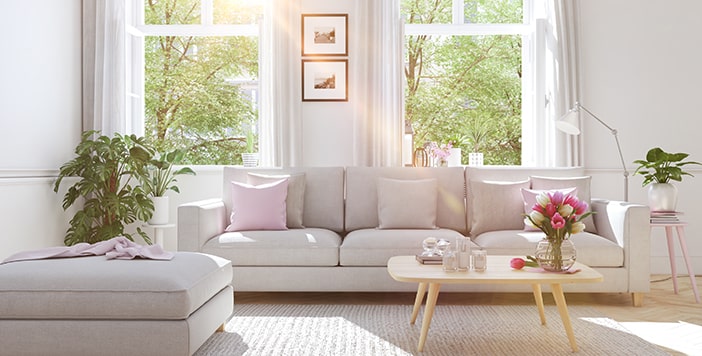 When is the best time to start spring cleaning?
Spring cleaning can take a lot of time, but it'll be worth it once it's done. It's best to start when you know you'll have a day or two to finish all of your tasks. Use a weekend or take a few days off so you won't be interrupted, then get to work! And don't get too hung up on the name – you can deep clean your home any time of the year.
What are some good spring cleaning tips and tricks for my appliances?
Use your appliances' built-in cleaning cycle! Many appliances have pre-programmed cleaning cycles that can run while you're completing other spring cleaning chores. If your appliance doesn't have a cleaning cycle, select a normal wash cycle and use an appliance cleaner such as affresh®️ to help remove buildup.
Why should you clean your appliances? Over time, soils, oil, grease and detergent can build up in your washing machine and your dishwasher. This buildup can cause odors and interfere with cleaning. In addition, hard water minerals can build up on surfaces, which can cause problems with water flow in dishwasher jets or washing machine components. Appliance cleaners are specially formulated to dissolve both detergent buildup and mineral deposits to keep your appliances working (and smelling) great.
How can I maintain a clean, tidy home once spring cleaning is done?
When it comes to cleaning, a schedule is key. Set up a routine that helps you keep on top of tasks based on how frequently they should be completed. Whether you prefer a paper planner or a reminder on your phone's calendar, a cleaning groove can help you stay on top of chores all year.
Everyone's cleaning schedule is different, so it's important to make sure yours is tailored to your needs. For example, some families may need to clean their floors every other week, while others may be able to stretch out their schedule to once a month. Pay attention to the ebbs and flows of your family's routine to determine how frequently you may need to perform some tasks. Also, keep in mind that events like holidays or family gatherings may result in the need to deep clean your home afterward. Use those times to evaluate or even create a cleaning schedule that you can maintain all year long.
While some chores can be set aside if needed, others have a schedule that is non-negotiable. (Clean dishes and clothes are a must, after all!) Make sure to clean items like dryer filters, garbage disposals and dishwasher filters frequently, and major appliances such as washing machines and dishwashers once a month. Keeping to this routine can help keep your hardworking appliances looking and performing great.
Spring clean your household appliances with affresh®
Whether you're deep cleaning your home or just keeping up with your routine, affresh®️ can help keep your kitchen and laundry appliances in tip top shape. Our collection of Kitchen Cleaners and Laundry Cleaners includes everything you need to clean washers and dryers, dishwashers, refrigerators, disposals and more. Explore our range of tablets and other appliance cleaners today.