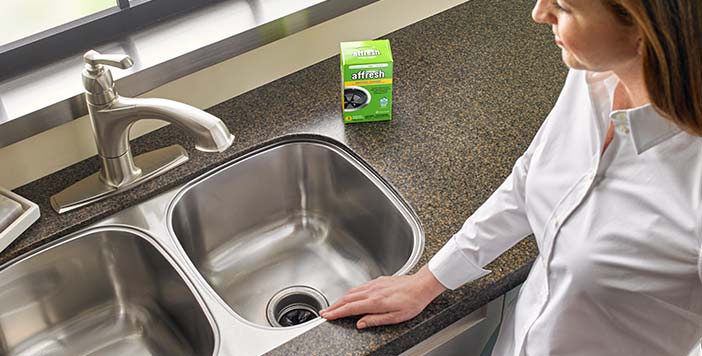 How to Clean a Smelly Garbage Disposal
A garbage disposal can be an indispensable appliance in your kitchen, helping you clean up quickly and get rid of common food waste. Yet, like every appliance, garbage disposals need regular cleaning and maintenance. You can use baking soda and vinegar to clean a garbage disposal, or opt for the ease and convenience of a disposal cleaning tablet from Affresh® appliance care.
Steps for Cleaning a Garbage Disposal with affresh® disposal cleaner
With affresh® disposal cleaner, there's no mixing, measuring or pouring required to clean your garbage disposal. Each tablet is designed to create a foaming, scrubbing action to help clean and remove odor-causing residues from your sink disposal. You can use affresh® disposal cleaner whether you are on a septic system or a municipal water supply, and it's made with EPA Safer Choice certified ingredients.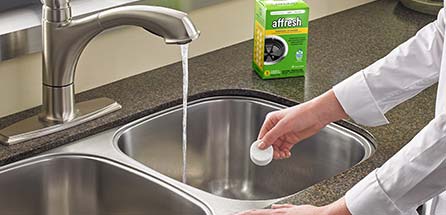 Step 1: Turn on Your Faucet
TURN ON hot water to a low flow and allow it to get hot.
Step 2: Add affresh®
Open package of affresh® disposal cleaner and select one tablet. Place 1 affresh® tablet in the disposal. Keep hot water running.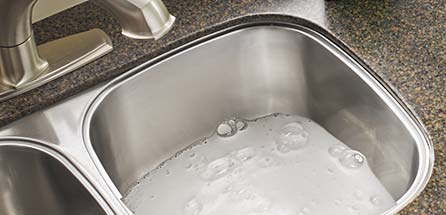 Step 3: Run the Disposal
TURN ON disposal for 15-30 seconds. Foam may rise. TURN OFF disposal.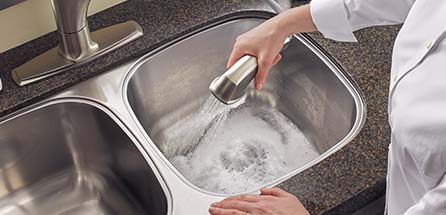 Step 4: Rinse Away Residue
Rinse away disposal cleaner foam and any residue down the drain. TURN OFF the water and enjoy the fresh, citrus scent. Repeat if needed.
How Often Should I Clean My Disposal?
Clean your in-sink garbage disposal monthly or whenever you get a whiff of that rotten disposal smell coming from your sink. Affresh® disposal cleaner has a calendar right on the box to schedule your next disposal cleaning. Consider asking your home assistant or smart phone to remind you, so you don't forget to clean your disposal every month!
What Causes Garbage Disposal Smell?
Garbage disposals can smell when bits of food get trapped under the impellers and begin to decompose, making your sink disposal smell like sewage or another odor. Bacteria and mold can also be in your disposal, as well as soap scum and hard water residue. The best way to get rid of garbage disposal smell is to run the disposal longer to fully grind and rinse away food particles and to clean your food disposal regularly.
How to Clean a Garbage Disposal with Baking Soda and Vinegar
If you don't have affresh® disposal cleaner handy, you can make a DIY disposal cleaner to help get rid of odors.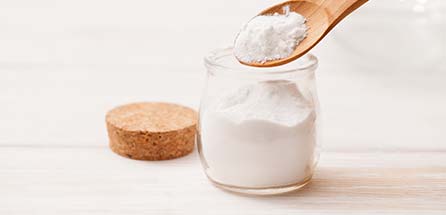 Step 1: Sprinkle Baking Soda in Disposal
Pour a ½ cup of baking soda into the disposal
Step 2: Let Sit for 30 Minutes
Let the baking soda sit in the disposal for a half-hour to absorb odors and help loosen particles
Step 3: Add a Cup of Vinegar & Wait 10 minutes
Pour one cup of white vinegar into the disposal and let the bubbles work for about 10 minutes
Step 4: Turn on Cold Water
Let the water run for 10 seconds.
Step 5: Turn on Disposal
Let the disposal run for 20 seconds, then turn off disposal and let water run for another 10 seconds. Repeat as needed to get rid of any lingering garbage disposal odor.
Can I pour bleach down my garbage disposal?
Keep chlorine bleach or drain cleaners away from your disposal. These corrosive chemicals can damage your pipes.
Can I clean my garbage disposal with coffee grounds?
Although dropping coffee grounds into your garbage disposal can reduce odors in the short term, coffee grounds can create problems for you down the road when they accumulate in your pipes and cause slow or blocked drains.
Affresh® disposal cleaner for Easy, Safe Disposal Maintenance
Take the worry out of disposal cleaning with affresh® disposal cleaning tablets. They're easy-to-use, safe, and effective. Affresh® appliance care products help clean your kitchen and laundry appliances. Once you've cleaned your disposal, try affresh® dishwasher, coffee machine, ice machine, cooktop, or stainless steel brightener to get your entire kitchen clean and smelling fresh.