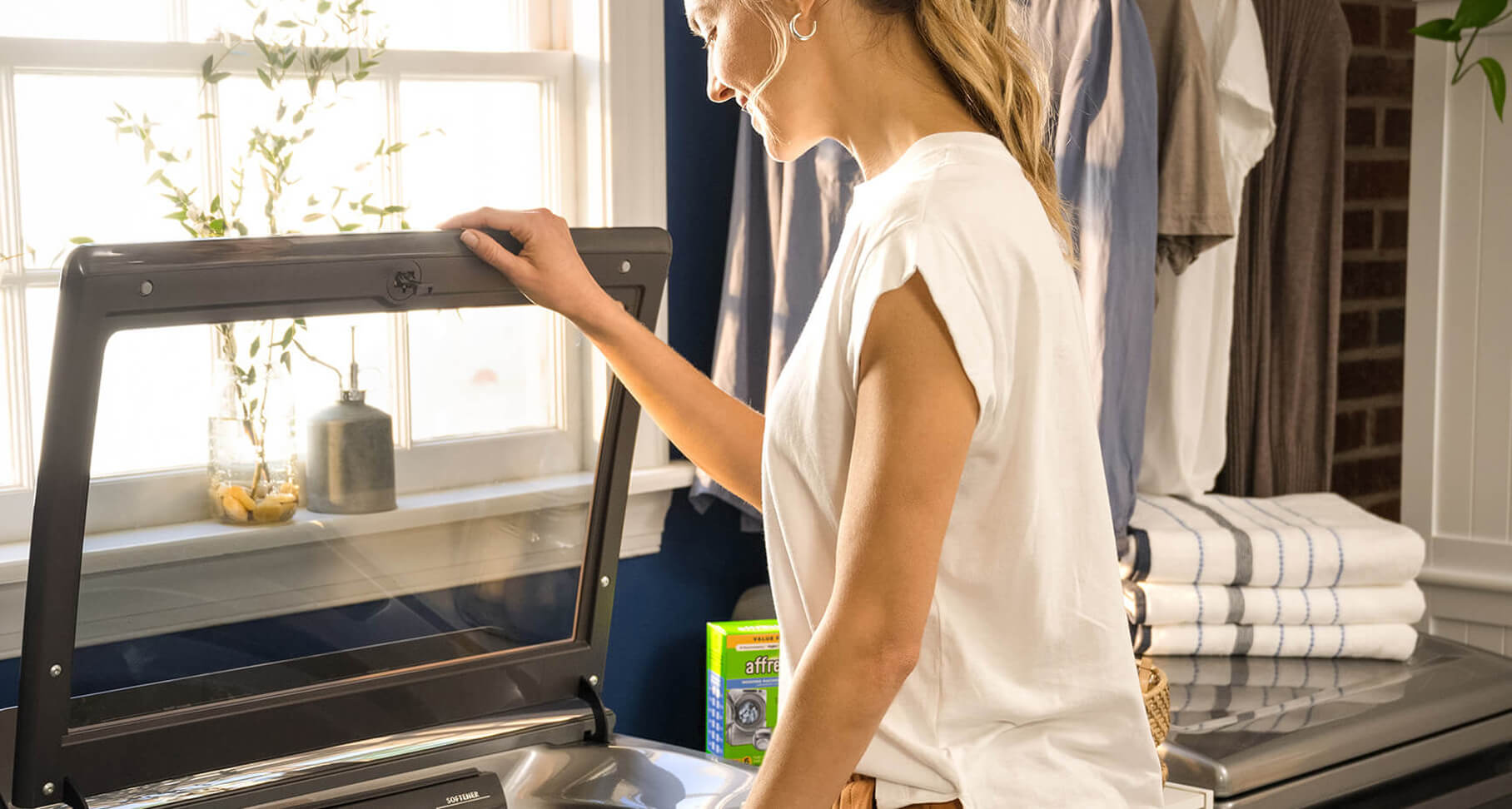 How to Clean Your Washing Machine
If you're like most people, you think your washing machine is something that does the cleaning, not something that needs cleaning. Luckily, you don't have to add another laborious chore to your list. Cleaning your washer is safe and simple with affresh® washing machine cleaner tablets.
Where is the Mildew Smell in my Washer Coming From?
Do you know what's hiding inside your washing machine? Affresh® was developed to remove grime and odor-causing residues which can form in the washer over time. Affresh® was evaluated against soap scum, dirt, grease, lint, water minerals and fabric softener soils to help with removal of these relevant soils and residues. This residue nests in moist areas and creates a haven for grime that accumulates over time.
This buildup can live behind the gasket of your front loader, in the drum, under or around the lid or door and in your dispensers — even in parts you can't see. Without proper care, this buildup can create a moldy or mildew smell.
That grime and buildup in your washer can also get left behind on your clothing and lead to that musty smell. It's hard to get clean clothes from a dirty washer.
Affresh® washing machine cleaner deep cleans your washer to help remove the odor-causing residues and grime that can form in machines over time, without proper care.
How to Clean a Washing Machine with affresh®
You may have heard about DIY home remedies for cleaning your washing machine with vinegar or baking soda. These cleaning hacks may be helpful if you're in a pinch, but you could end up measuring and running multiple cycles.
You want easy and efficient when it comes to getting the smell out of your washer. We get it. How about dropping a tablet into your washer, pushing start and walking away? Now that's simple.
Steps for How to Clean a Washing Machine
Affresh® is specially formulated to help remove odor-causing residues in your washing machine. Affresh® washing machine cleaner uses time-released tablets that are designed to clean inside all machines, including HE (High Efficiency). The tablet dissolves slowly throughout the wash cycle to continually send powerful cleansers to help remove buildup.
Here's the simple process to use affresh®:
Step 1: Prep Your Washer and Add affresh®
Remove clothing or other items from your washer. Open package of affresh® washing machine cleaner tablets. Select one tablet and place affresh® tablet inside your empty washing machine (not the dispenser).
Step 2: Start Your Washer
Select Clean Washer cycle if your washer has one or Normal or Heavy cycle and Hot water temperature. If necessary, refer to your model's Use and Care Guide for the necessary cycle selection. Start washer.
Step 3: Wipe Away Residue
Wipe away any residue with a clean microfiber cloth. Since the tablets are time-release, sometimes some will remain in the bottom of the tub. This is normal. Simply remove with your cloth.
Step 4: Repeat if Needed
Repeat process if you've never cleaned your washer, it has been more than 6 months since a cleaning, or there is excessive residue buildup or odor. Up to 3 consecutive cleaning cycles may be necessary in extreme cases.
With affresh® washing machine cleaner there's no mixing, measuring or pouring required to get your washing machine clean and shiny. Affresh® does not contain harsh chlorine bleach and is made from EPA Safer Choice certified ingredients. It's safe for septic systems as well as municipal water supplies.

How Often Should I Clean My Washer to Prevent Buildup?
Use affresh® washing machine cleaner monthly or every 30 wash cycles for best results and a consistent clean. Staying on top of cleaning your washer with affresh® means you don't give residues a chance to take up residence in your machine.
Here are some other tips to keep your washer from smelling not-so-nice:
• Keep the door of your front loader or the lid of your top loader washing machine open between loads. This allows the drum to ventilate and more fully dry and reduces your chances of getting mold or mildew.
• Wipe down the interior and exterior of the rubber gasket of your front loader after you've finished your laundry each time.
• Wipe out the detergent dispensers of your washing machine weekly.
• Schedule your monthly affresh® washer cleaning on your calendar so you don't forget! Affresh® comes in multi-packs so you can keep a supply on hand.